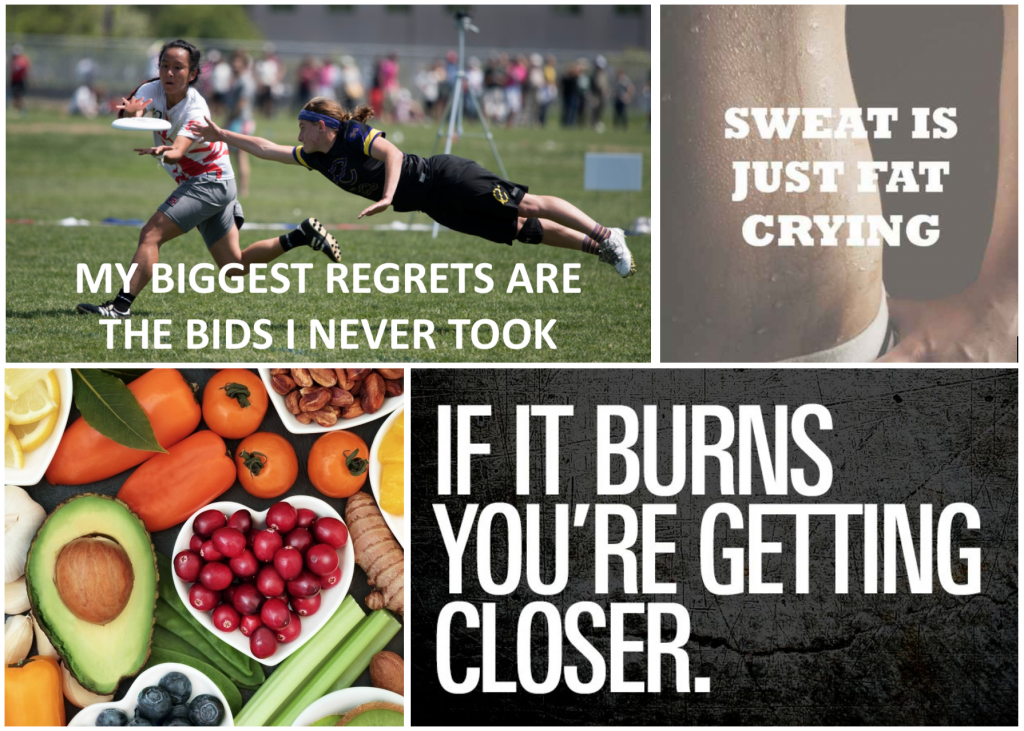 "Just playing ultimate is not enough. To really improve your game, you need to build your strength, core and flexibility off of the pitch."
OW! will soon start training for another epic year of ultimate. We have some big goals ahead of us: Indoors, Mixed Outdoors, BUCS and more.
We all know it. Fitness is important for playing ultimate.
Whether it means hitting the gym or training in the park, this pre-season fitness guide should give you some prompts and top tips on how to raise your game before and during the 2018/19 OW! season, by doing some ultimate-specific fitness training.
– FITNESS –
– TOP FIVE TYPES OF STATIC EXERCISES FOR ULTIMATE –
First up, strength and flexibility. Both are important for ultimate. The static exercises below are great for ultimate. Type them into YouTube if you're not sure what they are.
LEG STRENGTHENING. squats, split-squats, box step-ups, squat jumps, lunges. Nordic hamstring curls, leg curls, calf raises.
PUSH-PULL EXERCISES. bench press, shoulder press, push-ups, pull-ups, tricep dips, dumbbell rows.
HIP EXPLOSION. kettle bell swings, hang-cleans, deadlifts, single leg deadlifts.
Plank, Russian twists, bicycle crunches, leg raises, rollouts, raised leg single squats, supermans, burpees, sit-ups.
Stretching: focus on hip extension, hamstrings, shoulders, glutes, quads, calves, ankles.
– TOP THREE DYNAMIC EXERCISES FOR ULTIMATE –
Second, endurance and agility. Better ultimate players work on both of these. The majority of the exercises below don't need any equipment: the park is the best place to try them!
SHUTTLE RUNS: Try high intensity, short interval training. Try 10 x 180 degree turns in 30 s of sprinting, and then 90 secs of rest. Repeat 10 times.
LEARN HOW TO SPRINT: Sprinting is a core part of the game, yet few players practice it. Practice: A,B,C skips, driving your arms, increasing your cadence, taking shorter steps, leaning forward, correcting your shin angle, correcting your breathing, running uphill.
AGILITY DRILLS: Practice your footwork (e.g. on agility ladder): shuffles & skips. Practice your turning, core engagement, and jumping.
READ WHAT BEAU KITTERAGE DOES EVERY DAY HERE
READ THIS GUIDE FOR TRAINING FOR ULTIMATE
HOW OFTEN SHOULD I WORKOUT?
Pick a few of the exercises above (not all of them!) and try a workout!
If you're just beginning and are not sure what to do, here's two example weeks to try:
Mon
Tue
Wed
Thu
Fri
Sat
Sun
Squat jumps 4 sets x 8 reps

Assisted push-ups 4 sets x 8 reps

Leg raises 3 sets x 8 reps

Front plank 3 sets x 30 secs

Bicycle crunches 3 sets x 30 secs

Stretching

REST
400 m jog warmup

A,B skips x 200 m each

Shuttle runs 6 x 180 degree turns in 20 s of sprinting, then 90 secs of rest. Repeat 8 times.

Warm down

Stretching

REST
Box-step ups 4 sets x 8 reps

Calf raises 4 sets x 8 reps

Single leg deadlifts 4 sets x 8 reps

Burpees 3 sets x 8

Supermans 3 sets x 30 s

Stretching

REST
REST
Mon
Tue
Wed
Thu
Fri
Sat
Sun
400 m jog warmup

Agility: Skater skips 3 sets x 10, Practice turns x 10 each side, Practice jumps from two/ single legs

10 x 50 m straight sprints, focusing on good running form

Warm down

Stretching

REST
Longer stretching session
REST
Split squats 4 sets x 10

Assisted pull-ups 3 sets x 5

Russian twists 3 sets x 30 secs

Leg raises 3 sets x 8 reps

Stretching

REST
REST
For each static workout, we recommend picking 3-4 exercises and trying 4 sets of 8 to 10 reps.
For each dynamic workout, try to get a minimum of 30 mins of high intensity exercise in.
Gradually build up the number and intensity of the exercises with each workout as you progress.
We recommend 1-2 fitness sessions a week for beginners, and 2-3 sessions for advanced players. But listen to your body – allow it time to rest!
– INJURY –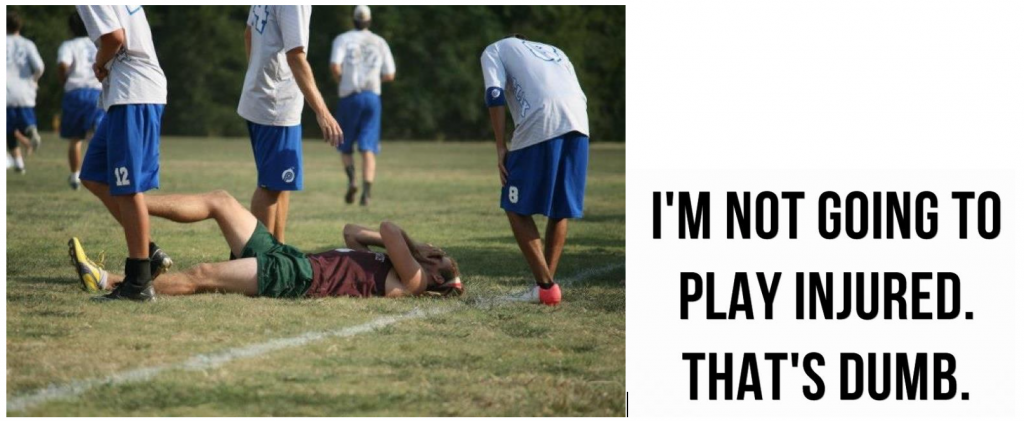 "Prevention of injuries is key. By working out, you reduce your chance of injury."
Being able to manage injury well is critical for your long-term ultimate career. We want minimal injuries over the 2018/19 OW! season. Below are some top tips on how to prevent and cope with injury.
Be injury-savvy. Prevention is key, and a simple relationship is:
BETTER STRENGTH, CORE, FLEXIBILITY = LOWER INJURY RISK
Working out for ultimate lowers your risk of injury.
5 TOP TIPS FOR COMING BACK AFTER AN INJURY
Don't play injured. See a doctor and get the right diagnosis.
Recover and build strength. Don't just aim for your original level of fitness, aim to be stronger than before. This reduces your chances of the same injury reoccurring.
Patience. Take one day at a time, look at what you can achieve from each workout.
Positivity & perspective. Our mental game affects all other parts of our game. Be grateful you can come back, learn from your injury, and, eventually, don't let your past injuries hold you back.
HEAR BRODIE SMITH'S INJURY STORY
– EATING WELL –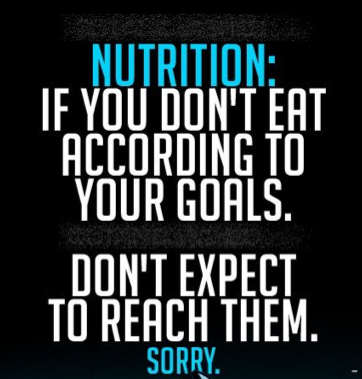 A good diet is vital when playing any sport.
Many ultimate players don't realise how much fuel their bodies need to keep up with the sport.
YOU CAN RUN ON AVERAGE 4KM PER GAME OF ULTIMATE..

..AND BURN OVER 600 CALORIES

Are you eating enough for ultimate?
A three hour OW! training session or a 40 min workout could easily burn 600+ calories. Make sure your body is able to cope!
Have a read of this article on nutrition for ultimate.
Other help: contact the OW! Welfare Officers.